Posts tagged
Nook Tablet
1
A few days ago Barnes & Noble announced 7-inch Nook HD and 9-inch Nook HD + tablets running on Android 4.0 Ice Cream Sandwich operating system.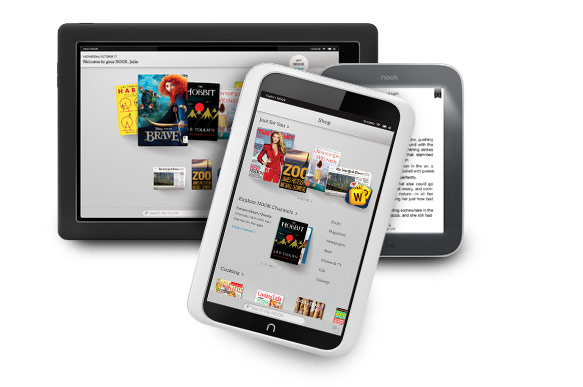 Image is from official Barnes&Noble site


Current Nook tablet
The manufacturer claims Nook HD as the world's lightest 7-inch tablet with a high-resolution display. The weight of the gadget is 315 g only. 7-inch Nook HD powered by dual core 1.3GHz processor and has 1GB of RAM. Flash storage capacity could be 8 or 16GB depending on the model. In addition Nook HD equipped with MicroSD slot for storage extension.
7-inch Nook HD comes with high resolution 1440×900 pixels display 1440 × 900 pixels with density of 243 pixels per inch. The equipment includes wireless adapter Wi-Fi (802.11b/g/n), MicroUSB and HDMI ports. The tablet could run up to 10.5 hours while reading and up to 9 hours while watching video on a single battery charge.
According to the Barnes & Noble, Nook HD + model is the lightest and most affordable tablet equipped with a 9-inch high-definition touch screen display. The device weighs 515 g. Nook HD + display supports full HD and has a resolution of 1920×1280 pixels, i.e. 256 pixels per inch.
Nook HD+ powered by dual-core 1.5 GHz OMAP 4470 processor and has 1 GB of RAM. Flash storage capacity of the device could be 16 or 32 GB depending on the model.
Other features of Nook HD + are: Wi-Fi adapter, MicroSD slot, MicroUSB and HDMI ports. The battery supports up to 10 hours of reading and 9 hours of video playback on single charge.
Tablets are integrated with online services Barnes & Noble: users can download books, magazines, movies, various applications, training materials and other digital content.
Sales of Nook HD tablets may begin in late October. 8 GB Nook HD model will cost $199 and 16 GB Nook HD- $229. Prices of Nook HD + with a flash storage of 16 GB and 32 are $269 and $299 respectively.
1
Barnes & Noble Nook Tablet 2 – next generation of Nook Tablet
According to internet sources Barnes & Noble is going to introduce next generation of Nook Tablet – Nook Tablet 2 at the end of September.
The original model of Nook Tablet was introduced in November of 2011. Nook Tablet powered by dual core TI OMAP4 1GHz processor. It comes with 7-inch touch screen VividView display with resolution of 1024 × 600 pixel, 1GB of RAM and flash storage of 8 or 16 GB expandable through MicroSD-slot. Nook Tablet supports Wi-Fi (802.11b/g/n) and run on Android Platform. The main competitor of Nook Tablet is Amazon Kindle Fire. Amazon is going to introduce new models of Kindle Fire tablet – Kindle Fire 2 in a few days on a special scheduled event.

Barnes & Noble reduce the price of existing models of Nook Tablet. The price of the 8GB model dropped by $20$.  The price of 16GB model is dropped by $50.
Next generation of Nook tablet will be introduced in New York. Nook Tablet 2 could run on Windows 8 platform. Sales of the new Nook Tablet may start at the end of October after the official release of Microsoft Windows 8.